The travel, tourism and hospitality industries understand they must rely on ancillary services as a core component of their revenue and loyalty strategy and use these as an opportunity to differentiate. An Ancillary Management System (AMS)* will help your brand serve the consumer while allowing you to easily and effectively unite ancillary products.
Leaders in the travel, tourism and hospitality industry know the key to success is not only driving ancillary revenue but also developing long-lasting relationship with their guests. But while ancillary services are crucial to increase the value per stay of a customer and maximizing the lifetime value of customers, many travelers do not see them as a significant differentiator between properties. In this rapidly-evolving economy, there is no better way to instill a sense of customer value than solving a pain through a memorable brand experience with personalized experiences and convenience
Even though guests can be considered a "captive audience" after a booking, companies are failing to capitalize on solving a critical problem through high-quality and right-timed ancillary services. With so many options for a traveler, hotels are finding it necessary to pile on the complimentary perks, Wi-Fi for example, in the hopes of attracting customers. While some travelers delight in room service, chances are there are better options at more reasonable prices within walking distance or through a food delivery service. Travelers around the world are still searching for authenticity, personalization and convenience.
iSeatz has established these best practices to travel, tourism and hospitality industry leaders optimize their ancillary management services. iSeatz' OneView Ancillary Management System™ is the premier AMS on the market today. To learn more about OneView AMS, please visit www.AncillaryManagementSystem.com
*U.S. Patent Pending
Click the image below to download the white paper Tips for Selecting an Ancillary Management System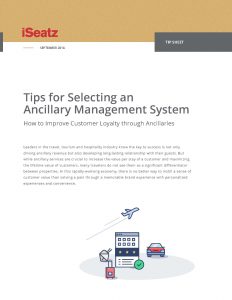 About the Author
Sean Duclaux is the Vice President of Product Management and Marketing for iSeatz and leads the product and digital experience strategies for the most powerful cloud-based, global digital travel commerce platform in the market today. In addition to an MBA from the University of Houston and M.S. in Computer Science from the University of New Orleans, Sean has over 20 years of experience in enterprise software and cloud technologies with over 13 years in the travel and hospitality industry.